×
Questions about D130/230/430/830/1630 Advanced T1/E1/J1 PRI Cards
D130E & FreePBX
6 years 4 months ago
#11336
by dean_dmuk
00:00.0 Host bridge: Intel Corporation Device 1918 (rev 07)
00:14.0 USB controller: Intel Corporation Device a12f (rev 31)
00:16.0 Communication controller: Intel Corporation Device a13a (rev 31)
00:17.0 SATA controller: Intel Corporation Device a102 (rev 31)
00:1c.0 PCI bridge: Intel Corporation Device a110 (rev f1)
00:1c.4 PCI bridge: Intel Corporation Device a114 (rev f1)
00:1d.0 PCI bridge: Intel Corporation Device a118 (rev f1)
00:1d.2 PCI bridge: Intel Corporation Device a11a (rev f1)
00:1d.3 PCI bridge: Intel Corporation Device a11b (rev f1)
00:1f.0 ISA bridge: Intel Corporation Device a149 (rev 31)
00:1f.2 Memory controller: Intel Corporation Device a121 (rev 31)
00:1f.4 SMBus: Intel Corporation Device a123 (rev 31)
01:00.0 System peripheral: Hewlett-Packard Company Integrated Lights-Out Standard Slave Instrumentation & System Support (rev 06)
01:00.1 VGA compatible controller: Matrox Electronics Systems Ltd. MGA G200EH (rev 01)
01:00.2 System peripheral: Hewlett-Packard Company Integrated Lights-Out Standard Management Processor Support and Messaging (rev 06)
01:00.4 USB controller: Hewlett-Packard Company Integrated Lights-Out Standard Virtual USB Controller (rev 03)
02:00.0 Ethernet controller: Broadcom Corporation NetXtreme BCM5720 Gigabit Ethernet PCIe
02:00.1 Ethernet controller: Broadcom Corporation NetXtreme BCM5720 Gigabit Ethernet PCIe
03:00.0 PCI bridge: ASMedia Technology Inc. ASM1083/1085 PCIe to PCI Bridge (rev 04)
04:00.0 ISDN controller: Cologne Chip Designs GmbH ISDN network Controller [HFC-4S] (rev 01)
06:00.0 PCI bridge: Texas Instruments XIO2001 PCI Express-to-PCI Bridge
07:00.0 Network controller: OpenVox Communication Co. Ltd. D130P/D130E Single-port E1/T1 card (3rd GEN) (rev 15)
I have managed to get it detected, but its showing up as a D115, the machine its in also has a 2 Port IDSN2 BRI Card (OpenVox B200E).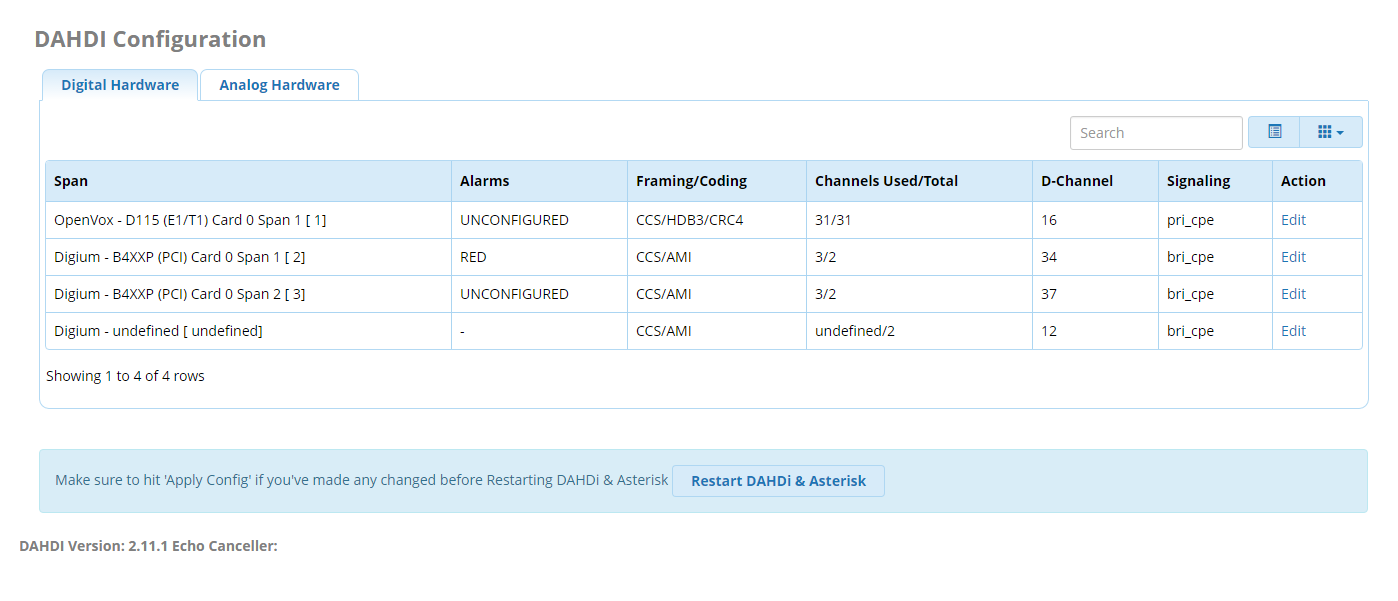 6 years 1 month ago
#11506
by Dario.hu
1. run command modprobe opvxd115 to check if can find driver opvxd115,if can't ,you should reinstall dahdi driver.
(before reinstall,remember to delete previous driver directory, it maybe /lib/modules/`uname -r`/dahdi or /lib/modules/`uname -r`/weak-updates )
2. you can add my skype(dario.hu2) and prepare teamview. i will help you to check it out.
Time to create page: 0.035 seconds